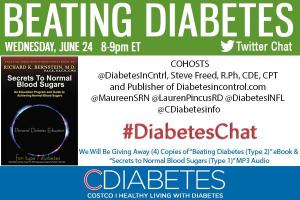 Join #DiabetesChat on Twitter 8p.m. – 9p.m. EST on Wednesday June 24 for your chance to win the MP3 Secrets to Normal Blood Sugars (Type 1 or Type 2) and the eBook Beating Diabetes (Type 1 or Type 2) by Dr. Richard Bernstein.
Login to your Twitter account and type #diabeteschat into the search bar to follow the conversation.
When tweeting use #diabeteschat so everyone in the chat can see your tweets!
Follow: @DiabetesInCntrl @DoctorsOption @MaureenSRN @LaurenPincusRD @DiabetesINFL @CDiabetesinfo
Good Luck!