History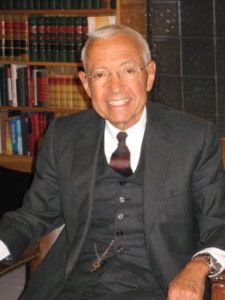 Dr. Bernstein has had diabetes for 72 years — since the age of eleven. He was trained as a management engineer and had been a business executive much of his life. In 1969, while suffering from a number of the complications of this disease and near fatal hypoglycemic episodes, he desperately sought a means for normalizing his own blood sugar. He acquired a device used in emergency rooms to measure blood sugars at night when the labs were closed. He then began to measure his blood sugar throughout the day, hoping to quantify what made it go up and down. His findings led to the development of "self-monitoring of blood glucose", a simple procedure that uses one drop of finger-tip blood, "Basal/Bolus insulin dosing and the reintroduction of the then globally opposed low carbohydrate diet. He was the first person to reverse severe long term complications of diabetes.
The medical profession opposed these concepts for many years; so Mr. Bernstein sought an MD degree to facilitate publication of his findings. In 1983, a the age of 49 he began to practice medicine. Blood sugar self-monitoring has since become widely accepted by the medical profession throughout the world but his notion that DIABETICS ARE ENTITLED TO THE SAME BLOOD SUGARS AND LIFE EXPECTANCIES AS NON-DIABETICS is still staunchly opposed by most medical professionals and their trade associations.
Dr. Bernstein has authored six of the leading books and three electronic books for those interested in normalizing their blood sugars to prevent the complications of diabetes. The two most recent books, Diabetes Diet, and Diabetes Solution are used by people across the world to help them in this quest. His internet video series DR. BERNSTEIN'S DIABETES UNIVERSITY, currently contains over one hundred sessions and has had hundreds of thousands of viewers.
Medical Practice
Dr. Bernstein's practice is active and currently accepting a limited number of new patients.
The patients who visit Dr. Bernstein undergo a treatment regimen unlike any other in the world. The initial workup and training of patients begins with a three day intensive intake and training session. Local patients frequently prefer to spread this intake over a number of visits.
Medical and Dietary History
Physical examination with thorough neurological workup. Special attention is given to uncovering any undiagnosed complications of diabetes
Laboratory tests
R-R interval study for autonomic neuropathy
Custom tailored diet plan and training
Training in blood sugar self-measurement
Training in blood sugar control including use of medications when necessary
Training in weight control, and use of new medications for this purpose
Training in management of blood sugar and dehydration during illness
Training in foot care
Prescription of oral blood sugar agents and medications for treating diabetic complications when necessary
Workup of erectile dysfunction when desired
Exercise training and planning, when appropriate
Workup of digestive disorders, caused by uncontrolled diabetes, which may interfere with immaculate blood sugar control
Treatment of yeast, urinary tract and fungal skin infections caused by poor diabetic control
Workup and treatment of hypothyroidism, frequently associated with diabetes
Workup and treatment of Polycystic Ovarian Syndrome (PCOS) when associated with diabetes
Follow up consultation is provided every few days to weeks either in person or via phone until blood sugar is under control. Once blood sugar targets have been attained brief follow up visits or telephone consultations are scheduled every three months.
Dr. Bernstein's philosophy is unique in that he believes diabetics are entitled to the same blood sugars as non-diabetics
Contact
Click here to find out how to contact Dr. Bernstein.
Curriculum Vitae
You can download the complete CV for Dr. Bernstein.